Investing.com's users can manage 2 types of virtual portfolios:
The

watchlist

is aimed at tracking the performance of selected instruments.

The

holdings portfolio

allows you to track your transactions, daily profit/loss,
In this manual, we will go over the steps for importing a Watchlist. To import Holdings, please go to the Import Portfolio - Holdings article.
If you have an existing portfolio outside of investing.com, such as Yahoo Finance or Google Finance, you can import your portfolio (watchlist or holdings) to our Portfolio
Please note that in order to import a portfolio, it has to be in CSV file format.
Once you access the Portfolio click on Import Portfolio, to begin the import process.

Step 1/3: Choose a portfolio to import
Upload your existing portfolio CSV file. Please note that there is a limit of approximately 50 symbols/instruments per import to a portfolio.


The CVS file must include at least one of the following columns:

Instrument's name.
Instrument's symbol.
Instruments ISIN code (if applicable).

Choose the portfolio type - Watchlist.
You can import the file to an existing portfolio or a new one.
Choose the portfolio's currency (for holdings portfolios only).
Click on Next to continue to step 2.

Step 2/3: Choose the correct columns
In this step, you will need to check that the columns have been identified properly by our system. This can be done by choosing the relevant identifier in the drop-down box above the column that displays the tickers. You can also use ISIN code instead of the symbol or the name.

Step 3/3: Confirm and edit tickers

Please review the symbol column and approve or change the tickers.
You can change any that are incorrect or not your preference by clicking the box and choosing the instrument you prefer. Use the toggle button at the bottom of the box to filter for only incorrect or unidentified instruments.


Also, you can delete unwanted rows, simply check the unwanted row and click on Delete.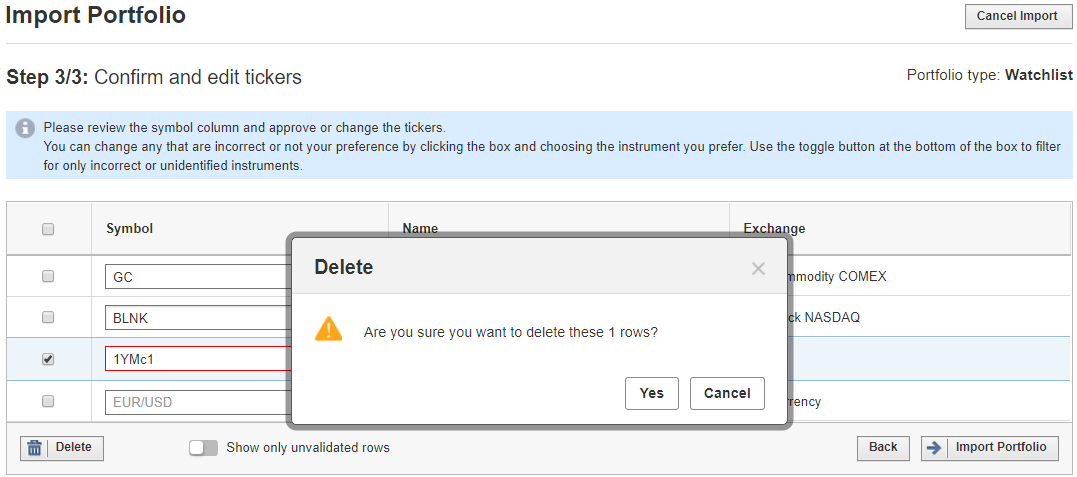 Once you confirmed that all your stocks have been identified properly, click on Import Portfolio to finish the process.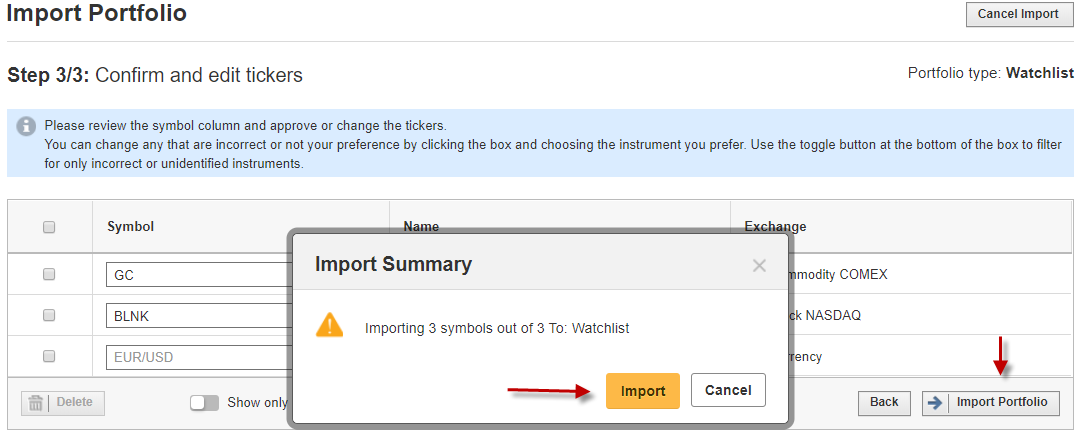 Feel free to contact our support department with any questions or suggestions.