InvestingPro puts the most popular valuation models right at your fingertips. Instead of wasting precious time building financial models, you can spend your time understanding the story behind the numbers.
IN THIS ARTICLE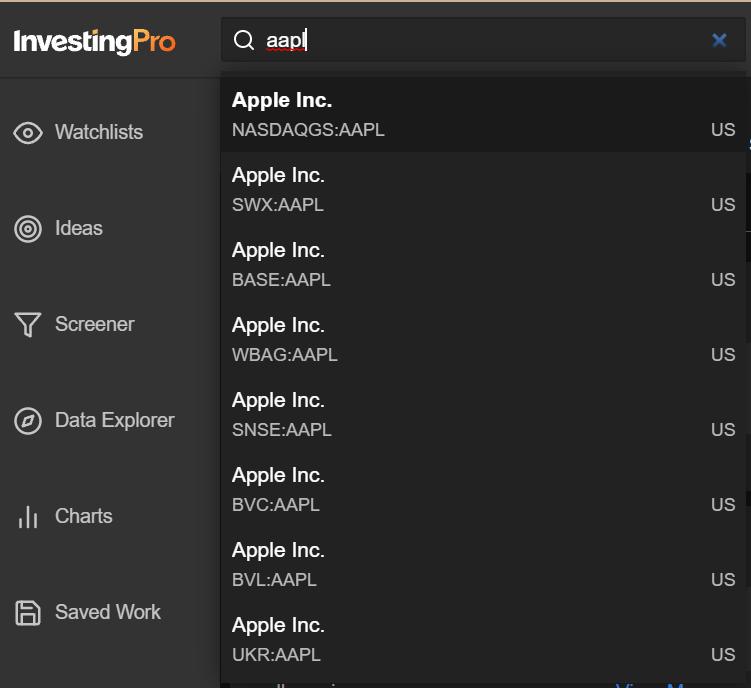 Find Available Financial Models
We intelligently suggest models based on the characteristics of the company. For example, we only activate dividend discount models if the company pays regular dividends to shareholders and disable unlevered DCF models for banks and financial institutions since banks have unique capital structures that don't play well with standard DCF models. You can find the quick list on the Overview tab for a company: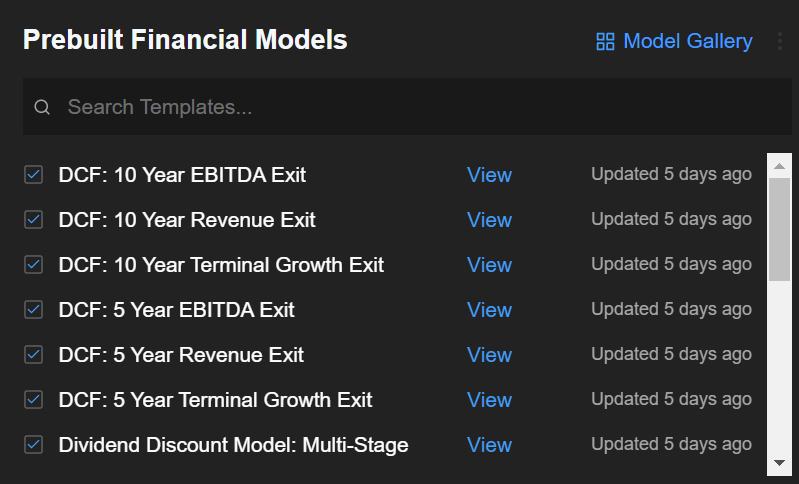 You can also view the full list of supported models under the "Models" tab. Some models offer options like a 5-year vs 10-year forecast period or tweaks to the methodology. You can use these options to customize your model template.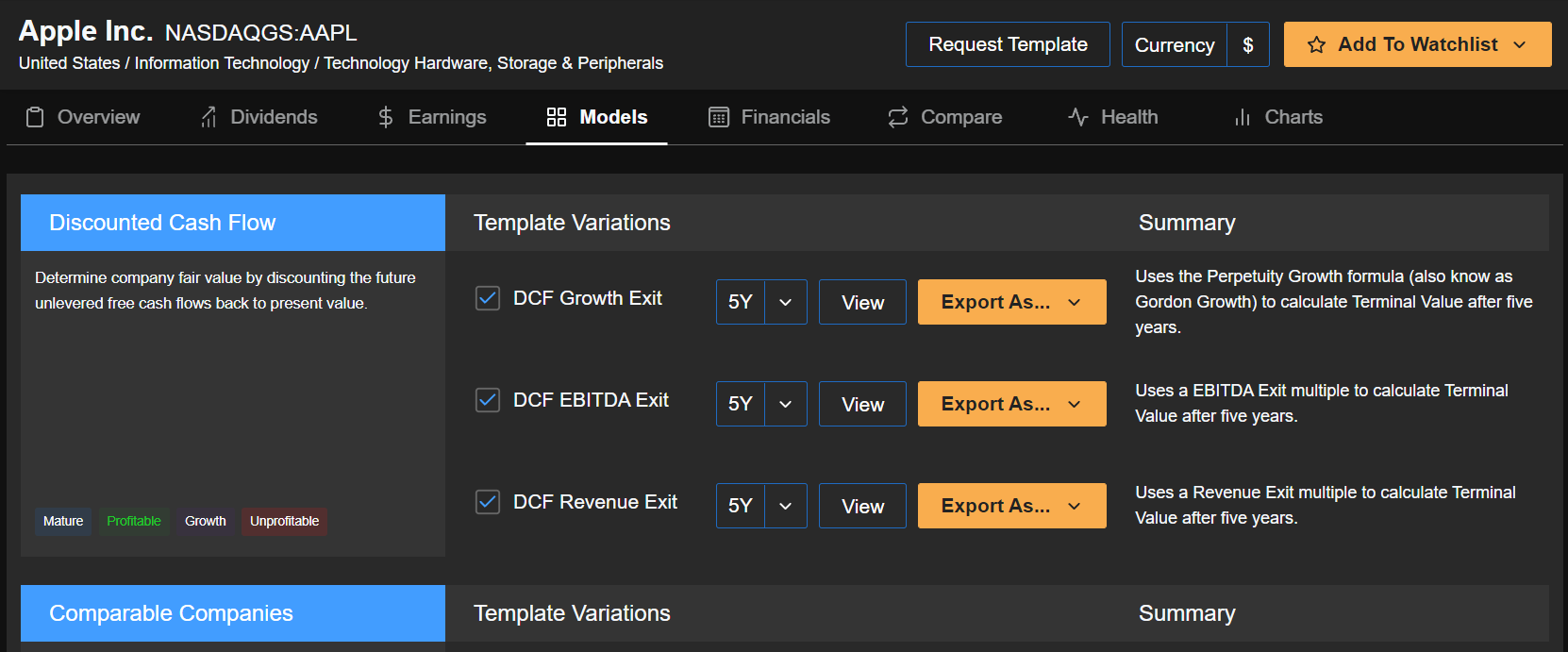 Model Validation Checks
We run each model through a series of checks. If these checks fail, we mark it with a red "x" sign. As the tooltip indicates, models marked as such require a thorough review of default assumptions. Advanced users will still find these models valuable since the model's methodology and historical data are reliable. They usually just need a few tweaks to the starting assumptions.

When a model passes all checks, we mark it with a checkmark. This simply indicates that the starting assumptions used in the model are reliable. It should not be interpreted as a recommendation to buy or sell.

Edit Your Model
Once you've selected a model to view in the online model editor, you change assumptions in your web browser to see the impact of fair value. Numbers colored in blue are editable:

If you prefer, you can also export the model to Google Spreadsheets or Excel. All spreadsheet formulas are left intact so you can inspect the calculations for key outputs like free cash flow, discount factors, and enterprise value.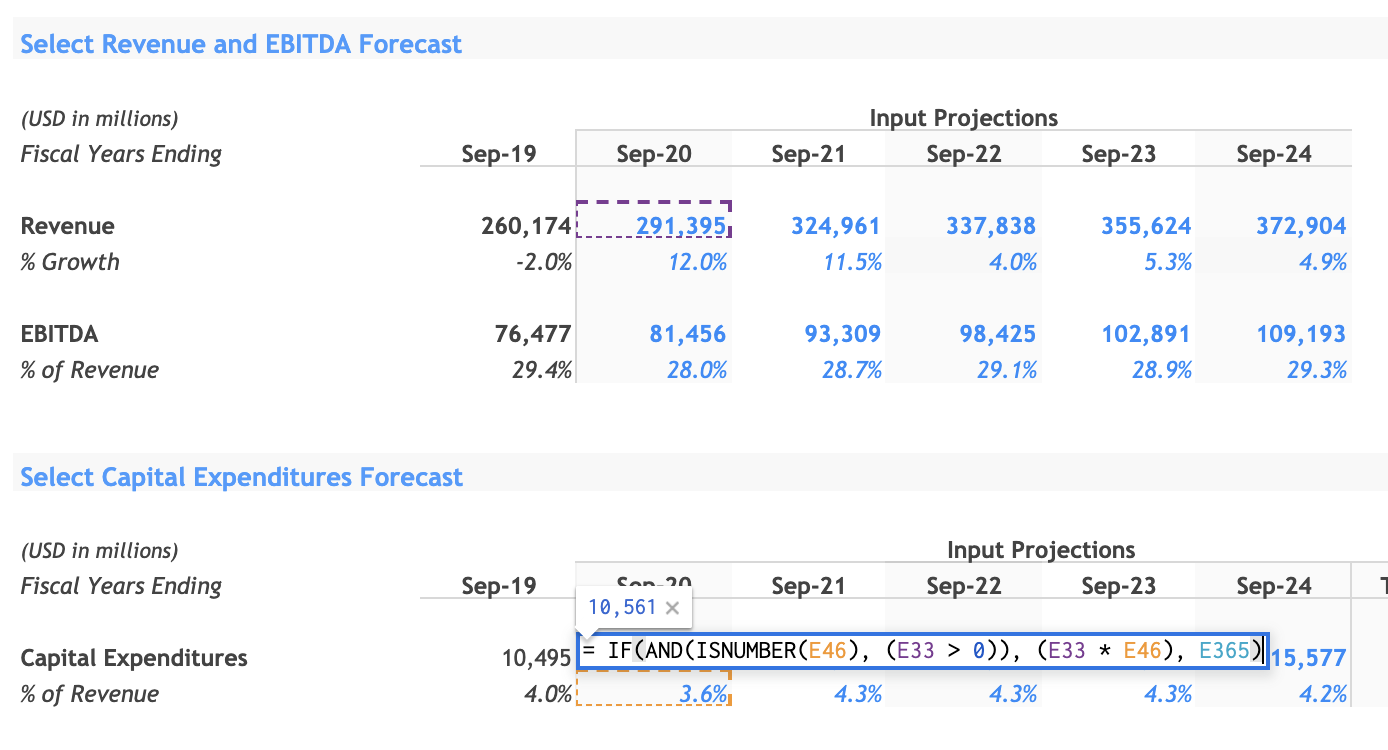 Save Your Model
You can also save your model by hitting the save button. You can access it later under Saved Work.

Download your model
Click the "Export as..." button in the right corner to export your model to a spreadsheet. Make sure to hit save before exporting your model to ensure it's in sync with any changes you've made online.

Share your model
You can easily share a link to your model with friends, co-workers, or on social networks.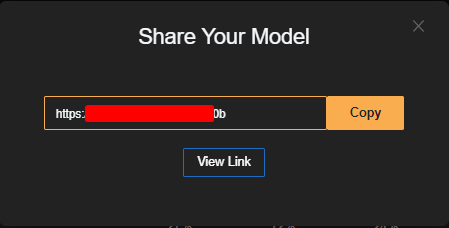 Have more questions?
If you haven't found the answers you were looking for, please go to the Investing Help Center for additional information.